Marci!
(A Cockapoo)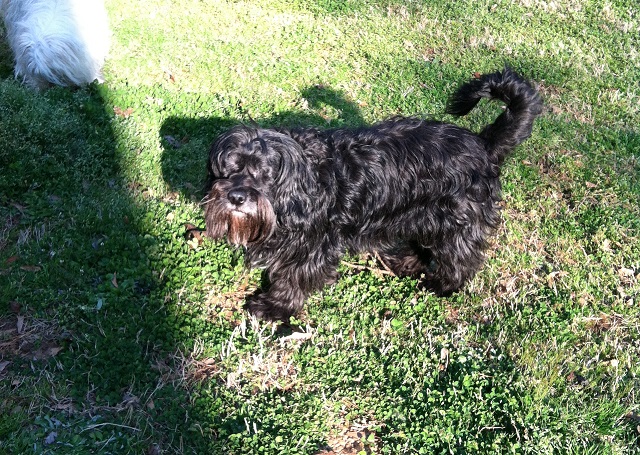 Marci is an adorable 30lb, 7-8yr old Cockapoo that is happy, happy, happy! From the enormous grin on her face to her wiggly, waggly bottom she is always cheerful and delighted to have you as a friend.
Marci found herself at a shelter when her human passed away. Sitting alongside her siblings, they were all adopted as sweet Marci sat and waited. Marci was older, and she couldn't see well, so nobody wanted her.
Except us. :) When the shelter described her precious disposition and how she sat at the kennel door and waited for a new family, we had to help her.
Marci came into rescue, with what we thought were cataracts. Unfortunately, Marci, instead, had glaucoma and was not only blind in both eyes, but in a lot of pain. The only way to free her of the pain was to remove her eyes, so the decision was made to have surgery right away.
Piece of cake, it was, for Miss Marci hopped out of that surgery like a champ. She obviously felt much, much better, and we saw the anxiety and stress disappear. Marci was much more relaxed, chirpier, and in all around good spirits. Who needs those ol' eyes anyway? Not Marci! She says "No eyes? No problem!"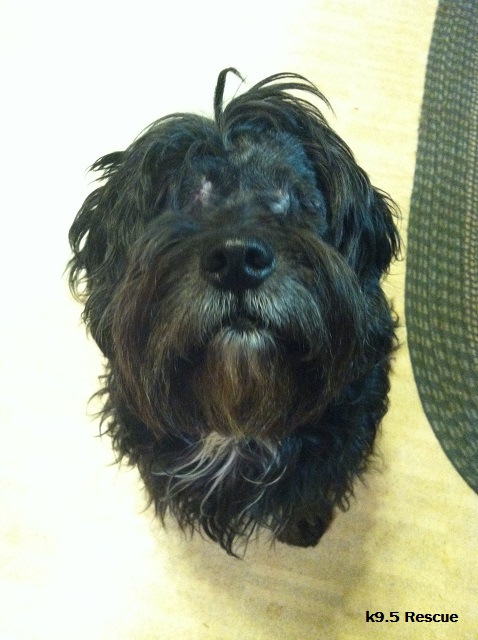 Marci has no trouble at all without her vision. She can walk around the house without issue, walk up and down stairs quick as lightening, and she knows exactly where the chairs, couch, and bed are located, jumping up on them with ease. She knows how to follow her foster mother around and is always by her side giving her moral support for difficult and important things like washing dishes, laundry, watching television and bathing.
Marci does well with other animals, although when she first meets dogs she can be a little growly. This is to be expected since she can't see or easily defend herself (in her eyes), so a calm, relaxed, non-dominating buddy would be best for her. She would probably not do well as an only dog because she depends so much on the company of her foster brother.
Marci is house trained and has nice manners indoors. She does great at the vet and is friendly to everyone she meets. She loves to sleep on the bed with her foster mother and often rests her head on the pillow. She passes out kisses all the time, is learning not to give hugs without being asked, and enjoys "back dancing."
Marci's absolute favorite thing in the world, however, is a belly rub! She will let you rub that silly little belly all day and all night long!
****************
When thinking about Marci as a part of your forever family, there are things that need to be considered due to her blindness.
A few facts about Marci and blind dogs
Marci will take a great deal of patience when transferring to a new home. She will need to learn the layout of the house, where furniture is located, the yard perimeters and more.

Marci will not be placed without a fenced yard for her own safety.

Marci can be a little spastic on a leash out of confusion. She will need continued training and patience with this, although we are working on it with her, as well.

Marci does not travel all that well in a car. She becomes anxious and upset since she doesn't have any way of knowing where she's going or what she's doing. She will need a great deal of understanding when she gets upset while traveling.

Marci will have some anxiety when she first goes to her new home. She has been through a great deal in a short time, and being uprooted again will be a tremendous change for her. Her new family will need to understand this and be committed to helping her adjust.

Marci will need time getting used to another dog. They may need separation at times, with Marci still able to be close to her new parent(s). She does not like dogs around her food bowl so they will need to be fed separately.
By taking these things into consideration and working with her, she can settle into her new home and be happy. There's no doubt that she is the cutest girl in the world, so her potential parents just need to be aware that she is an older special needs dog that will take time to adjust. Marci has megatons of love to give and is full of joy and good days, so in the end it's well worth it, for she is a true delight. If you are interested in meeting Marci for yourself to see what we're talking about, just let us know! There's no doubt that you will love her as much as we do.
*Please note that the following pictures do show some content that some may deem graphic*
Marci!
return to Adoptable Animals